Sample Page 2: Editing Essays
After you have chosen the level and grammar category, you will see a story menu listing a number of essays available for that level and category. Each essay is color-coded to help you to choose the right difficulty level for you.

RED is easier.
BLACK is moderately difficult.
BLUE is the most difficult.






Choose a difficulty level you are comfortable with, or challenge yourself! There is a right level for everybody. Your "Checklist of Stories" will also help you to make this choice.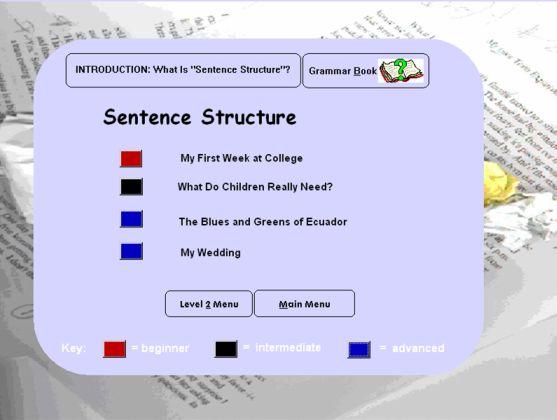 With so many interesting essay topics to choose from, you will be thrilled and captivated to read stories written by students such as yourself, stories about topics that students like you are interested in and find personally meaningful, essays that recollect your own rich and varied personal experiences.

When you have selected your essay, you will now be introduced to the main story page.
The "My Score" button gives you real-time scoring for each page!
A user-initiated timer displays how long the student has been working on the essay.
It's so easy to get "Grammar HELP!" For more information, see below.
Get Feedback

Click "Check My Answer" to see if you are correct. When you are not, you will receive hints as to what to look for to improve on your next try.
Try as many times as you want. Experiment with English!


Be a problem-solver! We encourage you to test ideas, which is so important when learning a language.



Grammar HELP!
Easy Writer is perfect for the self-directed learner.
Navigate with Ease
Are you a teacher who is not comfortable with using the computer? Or are you a student who is not familiar with English or computers?


You're always in the driver's seat with Easy Writer's quick and easy navigation!
Log in, Record-keeping, Print your log, Log out